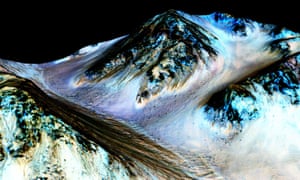 "What we are going to announce today, Mars is not the dry arid planet that we thought of in the past. Today, we are going to announce that under certain circumstances, liquid water has been found on Mars." - Jim Green, Director of planetary science at NASA headquarters
As of today, strong evidence has been found on Mars to support that liquid water can exist and does exist on the Martian surface. Specifically, salty water (water containing perchlorates) has been found on Mars creating dark streaks along the surface.
As of this moment, this is a brand new story so not a whole lot is known about what exactly is going on on Mars. As far as we know, the water only happens occasionally on the surface in regards to the distance from the Sun and other factors. "Nevertheless," as Stuart Clark says on CNN, "the news that there is (occasionally) flowing water on the surface of Mars boosts the chances of using it to support astronauts when we launch a crewed mission to the Red Planet."
In addition, this opens up the possibility of some sort of microbe or form of life that could exist on Mars. Could there be microbes in the water, or microbes that use the water as a source of nutrients and energy that exist on the surface? Or could there be a different life form that uses the water on Mars? The questions are endless, the possibilities immense, but we now know in almost certainty: WATER EXISTS ON MARS.
Here are the links to the CNN story and video:
http://www.theguardian.com/science/across-the-universe/live/2015/sep/28/water-on-mars-buildup-to-nasa-mystery-solved-announcement-live
http://www.cnn.com/2015/09/28/us/mars-nasa-announcement